Our services include IT & ITES Consultancy, Software Testing & SEO & SEM. We also specialize in Facebook Application Development and complex Data Migrations. We have a highly skilled team that includes certified professionals.
Our Specialties
Our Emotional Selling Proposition (ESP) are:
Communication
Regular and transparent Client Interactions
Makes you feel Important
Analytical Foresight
Constant focus on the business and the big picture
Adds Value to your Business
Self Driven Approach
Your Project, Our Responsibility
Makes you feel Safe & Secure

In Summary:
We build/develop applications – Mobile and Regular
We revamp Information Technology divisions
We supply Information Technology professionals, train local workforce and provide continuous support
Our Expertise in developing customized applications in the following field :
Customer Relation management (CRM)
Sales Force Automation (SFA)
eFinance
eCommerce
eHealth/mHealth
Inventory Management
Retail Management
Procure management
Advertisement/Promo Package
Mining /Energy Management
Port Management
Construction Management
Apart from what we mentioned above, we can also develop the following:
Finance and Administration Solutions - to keep vital government functions and responsibilities moving forward while saving staff time and eliminating costs, allowing government to meet today's challenges by digitizing paper documents and automating processes surrounding them
Agenda Management - to automate the approval, assembly and distribution of agenda and minutes management tasks, speeding up legislative processes.
Contract Management - to transform the way agencies review and renew contracts by allowing staff to electronically manage the process
Integrated ERP systems – to provide users with instant access to the documents they need within their familiar work environment
Public Records solutions – to aid open government initiatives by helping departments meet legal responsibilities for providing access to public records
Tax Filing Software
Budget Technology Solutions - to assist governments with formulation and analysis of operating and capital budgets as well as with administration of performance measurement programs
Export-Import Management Online Portal
And many others
Objectives
Expand globally through different sales channels.
Remove not only client dependency but also market dependency.
More focus Enterprise Mobility and Big Data – across all verticals with emerging technologies
Multifold growth in revenue as well as in human resources.
Enterprise Mobility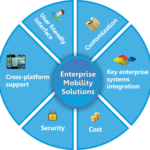 Enterprise mobility is the trend toward a shift in work habits, with more employees working out of the office and using mobile devices and cloud services to perform business tasks. The Enterprise Mobility Management (EMM) market has emerged in recent years and growing daily:
Mobile Content Management Features – such as secure email, calendar, document management software integration, and more.
Mobile Application Management (MAM) Features such as containerization, app wrapping, and app usage analytics.
Mobile Security Features – such as encryption, authentication, single sign-on, data loss prevention, and more.
We are partnering with some of the most renowned Global Companies from India.